SPEDA focus group offers insight into what will bring students home after college
Maintaining a sense of family, continuing to embrace tourism, arts and entertainment, and recruiting more internships and better job opportunities are at the top of the wish list for recent high school graduates considering whether to move back to Pulaski County after college.
As part of her flagship project for the Somerset-Pulaski Economic Development Authority (SPEDA), summer intern Devan Neely, a 2020 graduate of Somerset High School, assembled a group of six fellow graduates from schools across the county to discuss what they would like to see in their community. Following the discussion, Neely prepared a report for SPEDA's board of directors and an essay for publication.
SPEDA President and CEO Chris Girdler said the group's insight will help today's community leaders plan for tomorrow's residents.
"While we are definitely working for 'the now,' we are also planning for the future and preparing our community for its next generation of leaders and citizens," Girdler said. "It's difficult to affect change from a distance. This is how change happens."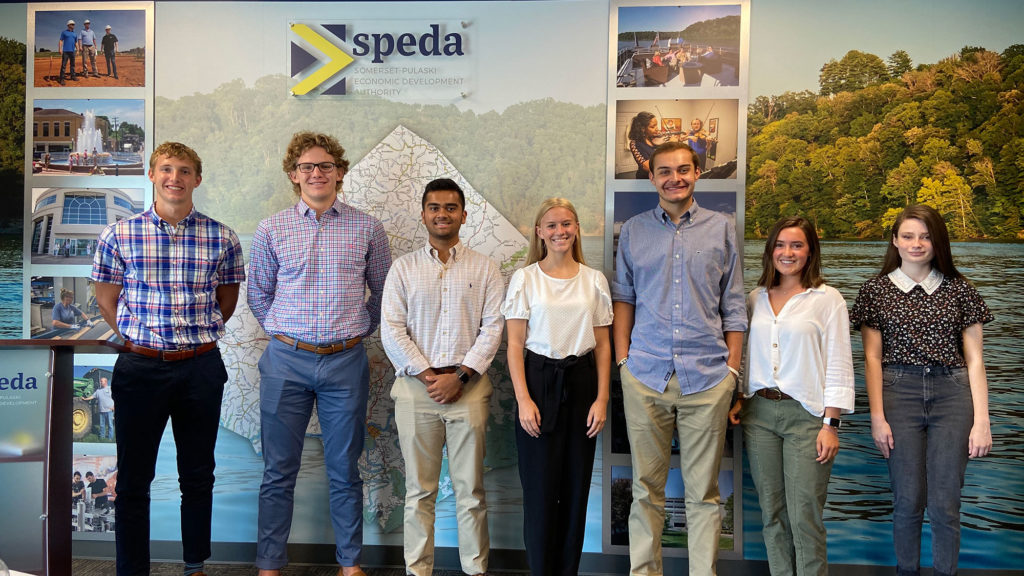 Overwhelmingly, the group's members — four SHS graduates, two Southwestern graduates and one Pulaski County High School graduate — agree they would like to move back to their hometown after college for the close-knit community aspect but are unsure about what job opportunities await them. They suggested creating more research opportunities for high school students and finding more internships so students can network in the business community sooner.
"One thing I don't see very much of in Somerset is businesses reaching out about internships and shadowing," said SHS graduate Olivia Stevens, who plans to go into the U.S. Air Force and become a dentist. "For me, I'd have to go ask eight dentists to get 40 hours of shadowing. Those hours are a big deal to me. Maybe we should have a program that would help us get jobs during transition years."
And while the arts community is thriving in Somerset and that is one aspect these students applauded, Southwestern graduate Bailey Patterson said she plans to pursue an acting career — and as an actress, she must join an equity union. No one in this area hires equity employees, "so I have no opportunities here," she said.
Those students pursuing medical degrees said they feel there's an opportunity for growth in this field. One challenge facing them, should they practice here, is how to get people to seek treatment in Somerset instead of larger cities. 
"People seem to feel safer with doctors in larger cities, but we're just as intelligent, just as capable here," said Southwestern graduate Chase Eastham, who plans to study neurology.
All of the students agreed Somerset is a great place to raise a family, and they like the momentum the community has right now in economic development and tourism. They said the community could benefit from indoor sports and recreational facilities for soccer, tennis and shooting, as well as more public transportation options. They said they hope leaders recruit more projects like the Horse Soldier Bourbon distillery, that events, outdoor art projects and festivals continue and that an atmosphere of diversity and inclusivity is fostered. 
"Another part of loving where you live is having something to look forward to," Neely said. "We need to keep recruiting exciting projects."
Girdler said the feedback gathered from these young people is invaluable and will serve SPEDA well as it continues to approach economic development from a quality of life perspective.
"I am grateful to all of these students for sharing their thoughts in such an open, honest way," Girdler said. "We are doing everything in our power to build a community they will want to come home to. These students are our future — they're why we need to look at economic development through a different lens. If we can attract their skillsets and talent after college, our community will undoubtedly thrive."
Read Neely's full report on the focus group.