SPEDA mini-grant allows business to meet demand by increasing inventory
Most businesses want repeat customers. And while this is true for Buck Creek Outfitters owners Stephen Dykes and Josh Jones, if a customer quickly gets hooked on the experience and buys a kayak after his or her first trip out on the creek, it's still considered a mission accomplished.
"Many people don't know if they will like kayaking, but will decide to give it try," Jones said. "And after the first time around the majority will go out buy a kayak right after that."
Still, this 2-year-old business is exploding in popularity, growing from an initial inventory of five kayaks to more than 30 thanks in part to the Somerset-Pulaski Economic Development Authority's (SPEDA) inaugural mini-grant program. What began as an idea to provide a few weekend floats along this remarkable 24.5-mile water trail has grown into a tourism adventure — whether you're renting equipment from Buck Creek Outfitters or calling for information on how to navigate the water yourself, this local business has become an expert resource.
"We both love the outdoors, hiking, kayaking, canoeing, just being out there," Dykes said. "Pulaski County has a wealth of opportunities for people to get out and enjoy the outdoors. Most people don't have access to it, though; kayaks are an expensive purchase. We thought if we can provide everything for a low cost it would expose people to this activity."
When this family-operated enterprise first started, however, places available to launch and remove kayaks along Buck Creek could best be described as "goat paths," Dykes said. Recognizing adventure tourism as an important part of economic development, SPEDA partnered with Pulaski County Fiscal Court, the Kentucky Fish & Wildlife Department, the Boy Scouts and Lake Cumberland Tourism to help this situation by developing the Buck Creek Blue Water Trail — mapping the creek, installing signage and creating safe and easily navigable launch points for paddlers. 
It has made all the difference, and Buck Creek Outfitters is grateful.
"A couple of the access points are now to where you can pretty much drive right down to the water's edge," Jones said. "The property owners have also been very gracious. Without them, we wouldn't be able to access Buck Creek."
While the response from the public was exciting and unexpected, Dykes and Jones were not immediately prepared for how quickly word about their business was spreading. In their inaugural season, all of their money went to buying additional kayaks and equipment to keep up with demand. Because their ultimate goal is to make the kayaking experience affordable, the SPEDA mini-grant program was a welcome opportunity to purchase more equipment without having to raise prices.
"Our primary goal has always been to promote the beauty that is Buck Creek and provide lasting memories for everyone at an affordable price," Dykes said. "Our kayaks receive more than the normal wear and tear, so with every new season, kayaks need to be repaired or replaced altogether."
On peak summer holidays like Memorial Day and Fourth of July, for example, Dykes said the company has not had the inventory to meet demand. "Regretfully, we've had to turn people away; many times, these would-be customers turn to out-of-county companies for the same service," he said.
The mini-grant allowed Buck Creek Outfitters to purchase 10 additional sit-in kayaks and three angler kayaks, as well as paddles and lifejackets, to be better prepared. And it's paying off — the 2020 season is already active despite the economic shutdown caused by the COVID-19 pandemic. Paddling is a natural activity for social distancing; if done correctly, it is an extremely safe option, Dykes said.
Buck Creek Outfitters has adopted policies for wearing personal protective equipment, such as gloves and masks, and sanitizing all life jackets, paddles and vessels to protect patrons from the virus.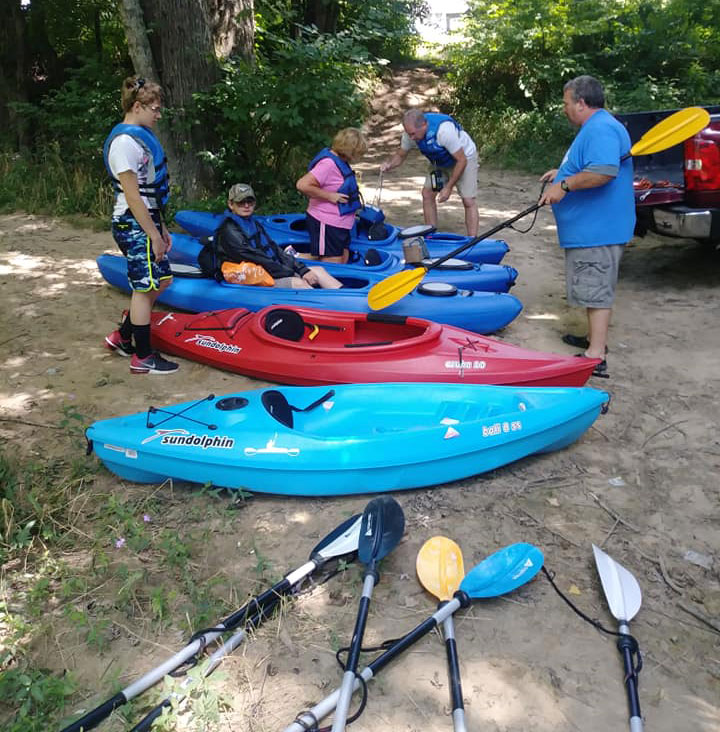 If you're ready to try your hand at floating the creek, call Buck Creek Outfitters at (606) 872-0038 to schedule a time for your adventure. Bring snacks, sunscreen and drinking water; Dykes and Jones will meet you at a public area, load you up in their vehicle with your equipment and take you upstream. They will review all safety protocols and procedures with you, like how to secure your lifejacket and how to paddle, and will stay with you until you feel comfortable. And they're always available by cell phone during your excursion in case you have questions or need assistance.
As for the future of the company, Dykes and Jones said they are looking for an opportunity to expand to Pulaski County Park, have plans to build a website and have recently joined the Somerset-Pulaski County Chamber of Commerce. They would eventually like to purchase a small bus, passenger van or multiple person SUV to improve transportation options and add staff members to help with increasing demand.
But for now, they just want people to enjoy the ride. Even if they go out and immediately buy their own kayak.
"When we started this endeavor two years ago, we never dreamed of the day we would have groups of 10, 12, or 15 kayakers," Dykes said. "It was our hope and dream, but no, we did not think there was any way we would've been as successful as we've been."
Follow Buck Creek Outfitters on Facebook at @BuckCreekOutfittersLLC.