"If everyone is moving forward together, then success takes care of itself."
Henry Ford
Our Team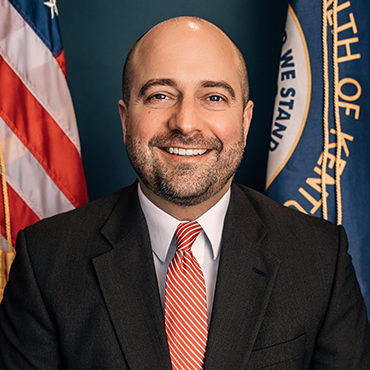 Chris Girdler
President + CEO
As a seventh-generation Kentuckian, Chris Girdler's roots run strong and deep throughout his hometown of Somerset and the Commonwealth of Kentucky. Having an extensive background in both the public and private sector, Chris is the president and CEO of the Somerset-Pulaski Economic Development Authority (SPEDA). SPEDA is a groundbreaking and innovative economic development organization that oversees and focuses on a well-rounded and collaborative approach to bettering the community and region. Its focus is business creation, expansion, retention and attraction.
Chris is an entrepreneur at heart and has a passion for business as well as public and community service. His background includes extensive experience in all of the above, which began at an early age.
The son of a school teacher and professional upholsterer and the grandson of the inventor of the houseboat, Chris learned at an early age the value of hard work and treating others with respect. Chris graduated from the public school system in Pulaski County where he varsity lettered in basketball and was a National Honor Society member.  He later attended Eastern Kentucky University where he graduated with a Bachelor of Business Administration degree.
Given his love of the houseboat industry, Chris began working immediately upon graduation as vice president of Sharpe Houseboats and remained in that role for five years, until the call for public service was too great to deny.  Having interned in the Washington, D.C. office of Congressman Hal Rogers during his college years, Chris used that experience to begin his tenure serving as a congressional aide for the congressman. He later became a loyal and dedicated district chief of staff for Rogers.
The experience gained during those six years in the congressman's office led Chris to seek elected office himself. In the spring of 2012, he held off many challengers and won a four-way primary by a large majority. He was later sworn in and served as a state senator for the 15th District of Kentucky. During his time working in the Capitol, he formed and chaired the Tourism Development Subcommittee, and served as chairman of the Capital Projects and Bond Oversight Committee. He was vice-chairman of the Economic Development, Tourism and Labor Committee while also serving on the Banking and Insurance Committee, the Natural Resources and Energy Committee, the Agriculture Committee and the Appropriations and Revenue Committee.
While serving as senator, Chris was recognized with various awards and recognitions including the Kentucky Retail Federations' Champion and Legislator of the Year, the Kentucky Marina Association's Legislator of the Year, the Kentucky Chiropractors' Legislator of the Year and the American Conservative Union's Conservative Excellence Award. In addition, Chris was selected as a delegate to travel to Israel on behalf of AIPAC and has been honored to be a commencement speaker for various graduation ceremonies over the years. 
With the upcoming birth of his second daughter, Chris made the difficult decision not to seek reelection to allow him to spend more time with his family. After serving out his four-year term, Chris reentered the houseboat industry and spent close to a year overseeing and working as president and CEO of newly merged houseboat manufacturer Trifecta Houseboats. However, he felt an entrepreneurial calling to focus further on the consulting and investment company he founded in 2011 called Possum Trot Investments, LLC. The company bears the name of the small community he was raised in and is a tribute to the pride he takes having grown up in rural Kentucky. The firm is an investment and consulting company that provides a broad array of consulting and advisory services and oversees various investments ranging from real estate to houseboats.
As an appreciative citizen of the opportunities he has been given, Chris spends much of his time, resources and energy giving back and helping with issues of importance to the community and his family. He is a fifth-generation member of First Baptist Church of Somerset. He serves or has served on many boards including Kentucky Community & Technical College System Board of Regents, the University of Somerset Board of Directors, The Center for Rural Development, the Somerset-Pulaski Chamber of Commerce Board of Directors, the Somerset Community College Foundation Inc. Board of Directors, the Mill Springs Battlefield Association Board of Directors, the Pulaski County Educational Consortium, the Republican Party of Kentucky's Executive Committee and various bank advisory boards.
Chris also served as president of the Pulaski County Lincoln Club for three years and president of the 5th District Lincoln Club for one year. In addition to his service on the Somerset-Pulaski Chamber of Commerce Board of Directors, he was elected president of the organization in 2014. He was also instrumental in founding the Somerset Christian School Foundation, where he served as president for a year. Prior to his service in Frankfort, Chris was honored by his alma mater as Eastern Kentucky University's Alumni of the Year.  
Girdler is an avid outdoorsman and family man. He and his wife Courtney reside in Somerset with their two daughters, Charleston and Channing.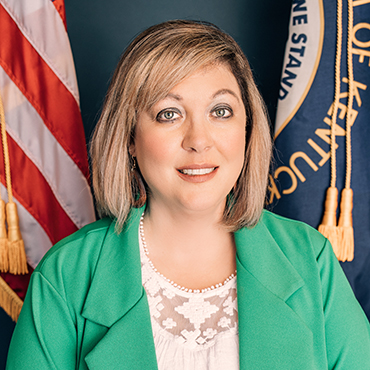 Jessica Carlton
Executive Assistant + CAO
Jessica Carlton is SPEDA's executive assistant and chief accounting officer (CAO). 
A graduate of Pulaski County High School, Carlton attended Eastern Kentucky University. She worked in the banking industry for more than a decade, served as an office manager for several years and later joined the Somerset-Pulaski Chamber of Commerce as finance director, where she stayed for five years.
Carlton is a board member of United Way and serves as co-chair of Lake Cumberland Area Heart Walk. She lives in Shopville with her husband, Nathan, where they own and operate a cattle farm and have two children — son Hunter and daughter Taylor.