New initiative ensures teachers and students are aware of the career opportunities available in Somerset-Pulaski County
A new program connecting local educators to job opportunities available in the community is underway in Somerset-Pulaski County.
You could call it a field trip for teachers: Bus to Biz — a partnership between the Somerset-Pulaski Economic Development Authority (SPEDA), the Somerset-Pulaski County Chamber of Commerce, public school districts and the industrial community — was developed to ensure teachers and students are aware of the career opportunities available in their community. 
As educators are helping students choose career paths and developing curricula to teach those career paths, understanding local workforce needs can help steer this process, SPEDA President and CEO Chris Girdler said.
"From the beginning, SPEDA's goal has been to make Somerset-Pulaski County a place that people want to live and work — where there are an abundance of good, high-paying jobs and a competitive market of employees to fill them," Girdler said. "Retaining our community's best and brightest students by making this a place they want to stay and raise families is crucial to maintaining that competitive workforce pool. We have to start early, helping high school students understand what jobs are available to them here and what training they need to fill them. It's essential their teachers are equipped with this knowledge."
The Bus to Biz program is exactly what the name implies — SPEDA and the Chamber plan a day's excursion for teachers to visit local industries by way of the district's yellow school buses. The first district to participate was Somerset Independent Schools, with more than 70 educators from Meece Middle School and Somerset High School boarding buses on Aug. 1 to visit Toyotetsu America Inc. (TTAI) and Hendrickson in Valley Oak Commerce Complex before coming back to the Lake Cumberland Farmers Market to hear from Lake Cumberland Regional Hospital healthcare professionals. SPEDA funded bus transportation and provided lunch during the day's activities.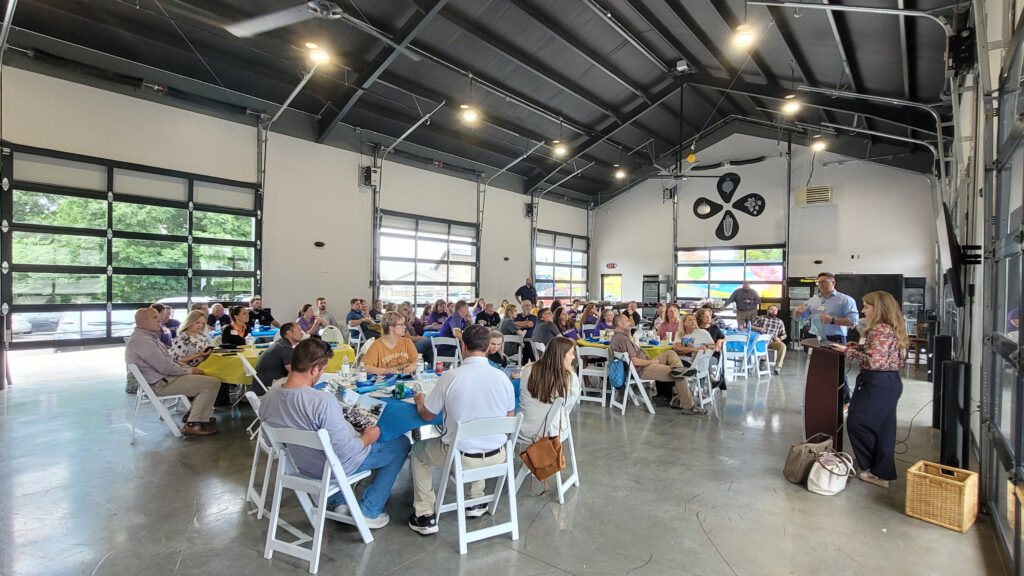 "The manufacturing and healthcare sectors are robust in Somerset-Pulaski County and the demand for employees in these sectors is high," Chamber Executive Director Bobby Clue said. "Who better to fill these jobs than our own rising young professionals? That's why we invited TTAI, Hendrickson and Lake Cumberland Regional Hospital to participate in this first session. We are grateful for the time each of these local businesses devoted to sharing information and opportunities with Somerset's educators."
Project-based learning is playing an increasingly important role in the high school curriculum, Somerset High School Principal Jeff Wesley said. Being able to develop learning opportunities for students that correlate directly with jobs they can obtain locally after graduation — no matter what higher education path they choose — is valuable.
"We want to set our students up for success in every way, whether they plan to attend college, technical school or go directly into the workforce after graduation," Wesley said. "Being better informed about the workforce needs in our own community helps us as educators deliver even more personalized instruction and guidance for our students. That's a goal we strive for every day."
Girdler applauded Somerset Independent for so quickly jumping on board with the program. 
"In reaching out to the schools in our community, Somerset Superintendent Kyle Lively was responsive and eager for his staff to participate," Girdler said. "(Coordinator of Federal Programs/Assessment) Cindy Ham took charge and led the way to ensure Somerset's teachers were able to have this great experience sooner rather than later."
Ham said the teachers who participated were excited to visit local businesses and gain first-hand knowledge about the skills and essential qualities students need as potential employees. 
"Being able to have our teachers and administrators make direct connections to employers in our community is extremely important in preparing our students for their future after public school," Ham said. 
Teachers' evaluations of the Bus to Biz program confirmed it was an asset: "This was great! Keep offering this resource connecting education to business and community," one read. And another: "One of the best PDs we have ever done!"
The Bus to Biz program takes place on professional development (PD) days, giving teachers a new opportunity to gain those hours right here in the community. Southwestern High School is slated to participate in Bus to Biz April 10, Girdler said, and plans are in the works with Pulaski County High School to schedule a date for participation as well.
SHS teacher Forrest Spillman, who also serves on SPEDA's board of directors, said he feels he is much more capable of communicating the types of occupations and job opportunities available to the upcoming generation after participating in Bus to Biz.
"I was so impressed by the leadership at the businesses who welcomed the teachers and felt a great degree of enthusiasm in suggesting to many of my students to consider seeking employment at these businesses upon graduation," Spillman said. "I felt that it was beneficial hearing from these leaders on how we, as educators, can help strengthen our local workforce."