Somerset Vision Center will launch traveling eye care service at schools
in 2023 with help of SPEDA mini-grant
Editor's note: This is the final in a four-part series highlighting the 2022 recipients of SPEDA's mini-grant program featuring Somerset Vision Center. The program awards four $2,500 grants to businesses that aspire to innovate and grow.
Ask local optometrist Jennifer Compton if she's ever bought anything interesting from Facebook Marketplace and you might get a laugh — and a great story.
The owner of Somerset Vision Center definitely purchased something unique from the popular social media platform: A well-maintained Winnebago (of all things). But she's not planning a cross-country trip anytime soon — this RV will only travel across town to deliver much-needed mobile eye care to children in Somerset-Pulaski County. It's an innovative project that received financial assistance from the Somerset-Pulaski Economic Development Authority (SPEDA) mini-grant program this year.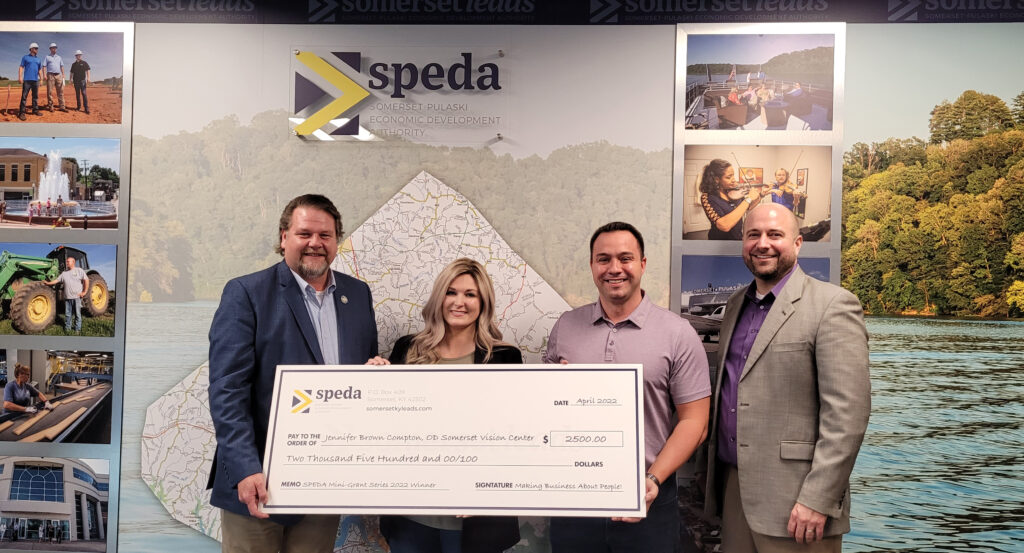 "Kentucky is a wonderful state to practice in from an optometric standpoint," Compton said. "We are one of the few states with a pediatric eye care mandate requiring all students entering public preschool or kindergarten to have a comprehensive eye exam by an optometrist or ophthalmologist. It is amazing how many pediatric vision disorders and ocular diseases are discovered in these exams that would not otherwise be detected if it weren't for that law."
But in every Kentucky county in which she's worked, Compton said, there has been a sharp decline in the number of parents who continue regular preventative care for their children.
"Perhaps we've not been as proactive or successful in educating parents of the importance of ongoing preventative care than our dental colleagues, but I think most parents feel when there's a problem, they'll address it," she said. "However, most children don't know what or how well they are supposed to be seeing. Few can articulate that concern if they did think there was an issue. It is usually not until there's an academic issue or a teenager fails a driver's permit test that we see these children again in the eye doctor's office."
In addition to not knowing that they are having an issue, Compton said, children also cannot make an appointment for themselves, check themselves out of school or drive themselves to their appointments. Some don't have the support system to get this care, while others have proactive parents or guardians who are simply facing barriers like not having enough paid time off to take their children for a routine eye exam.
A mobile eye care unit could help change that, and is a project that has been in Compton's sights for several years.
"I enjoy my job no matter where I do it, but I've always especially enjoyed community outreach projects — whether it was seeing underserved populations in graduate school, in a mission trip setting or even pediatric eye care clinics we've offered at our local office," she said. "However, as a business owner and parent, life gets busy quickly and having time free to take a week off for an international trip or even a weekend to volunteer out of town can become more difficult with time. On a personal level, I wanted to be able to have the same satisfaction that comes from community outreach, but be able to work that into the normal work or school day."
Compton spent time learning about other models for mobile care, like dental and pediatric, even touring other units in the community and asking questions of the staff. After speaking with them, she felt more confident in creating a mobile unit of her own and went about searching for the right vehicle.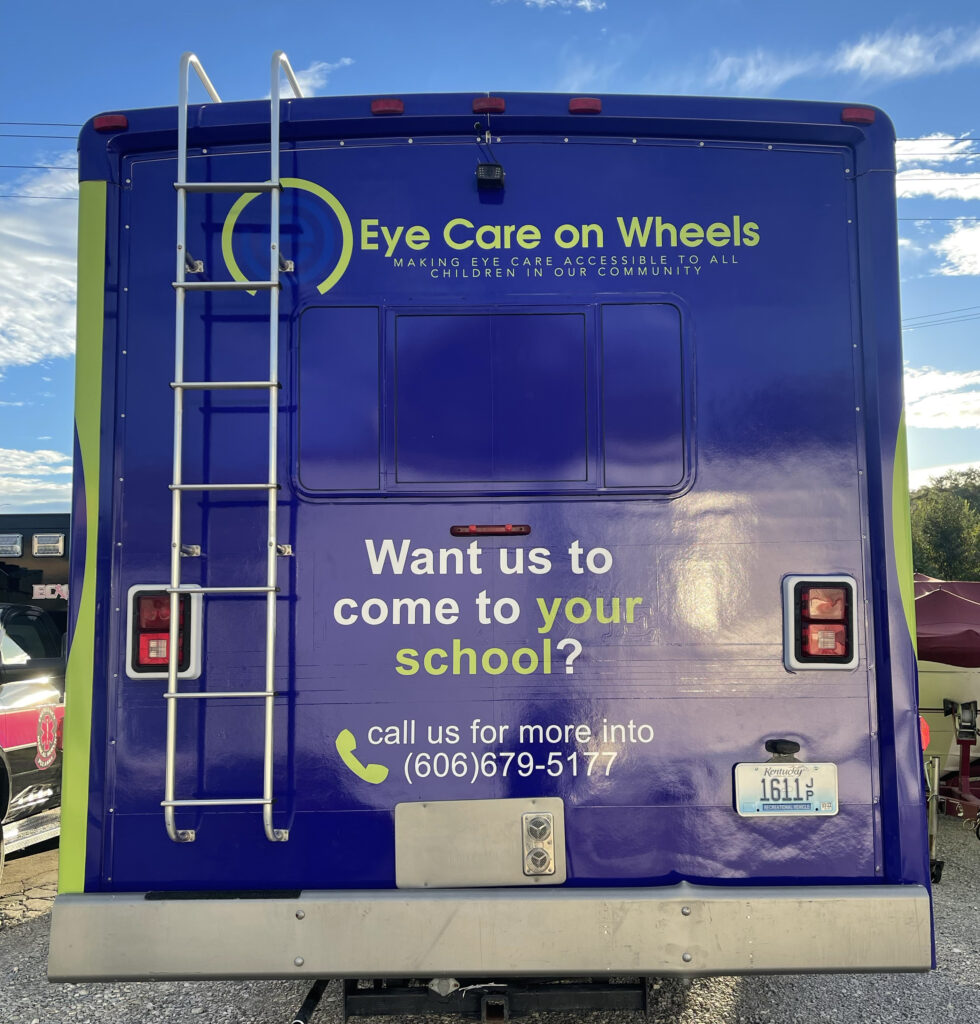 Enter the Winnebago. She bought the RV in 2020 and has spent the last three years working to get the project off the ground despite a challenging climate for the economy and public schools created by the COVID-19 pandemic.
Compton applied for a SPEDA mini-grant in 2022 to help with costs associated with wrapping and outfitting the Winnebago as a mobile clinic. It will have all the equipment that Somerset Vision Center has in its regular brick-and-mortar office, with the exception of some disease management units that are most routinely used in adult care.
Compton said the feedback provided during the mini-grant application process was invaluable and appreciated.
"As with any business project, a professional in their own field can think that their idea is a good one, but there's a lot of peace of mind that comes from individuals from varied backgrounds reading your proposal and thinking that it would serve the community well," she said.
The goal is for students to be able to have the same caliber of eye exam in the mobile clinic as they would in a traditional office setting. In the event that a student needs glasses, Compton said, he or she will be able to select frames in the mobile clinic. These will be made at Somerset Vision Center and delivered to the student at school as soon as possible.
Compton said she hopes the mobile clinic is operational by the end of summer 2023 and available to participate in Jump Start and Open House programs at local schools. While she hopes the program is successful enough to expand into other areas, the emphasis, for now, will be on the students in all school systems within Pulaski County.
"One thing that I'm really excited about is that there should not be an instance in which a student should not be able to get the eye care they need," Compton said. "Most children in our community are covered by insurance, whether commercial or state-sponsored. In the event that a child is uninsured, I will donate the eye examination and if the child needs glasses, they will be provided free of charge by the Essilor Lenses Change Lives program in exchange for the services I've contributed."
Changing lives for children who need eye care in a Winnebago purchased on Facebook Marketplace. A great story indeed.