Natural outdoor billboards highlight Somerset-Pulaski County attractions
U.S. 27 South is more colorful this Fourth of July weekend with the completion of three water tank murals at the City of Somerset Water Plant, the second phase of a beautification project commissioned by the Somerset-Pulaski Economic Development Authority (SPEDA), Lake Cumberland Tourism and See Somerset Tourism.
Local artist Jordan Justice designed and painted these masterpieces, which complement the mural he completed in 2021 on the largest tank at the plant — an outdoor billboard visible from the road and the lake that highlights the community's designation as the Capital of Lake Cumberland and the Houseboat Capital of the World.
"Once again, Jordan has helped us tell Somerset and Pulaski County's story in unique ways," SPEDA President and CEO Chris Girdler said. "These murals not only make our community more beautiful, but they showcase the talent we have here and are a natural way for us to share our pride with residents and everyone who visits."
Visible to thousands of motorists traveling on U.S. 27 in both directions, the new murals illustrate some of Somerset's most popular attractions — from a classic car cruising through town for Somernites Cruise on its way to the Master Musicians Festival to an airplane flying over Haney's Appledale Farm and the county's beautiful farmlands.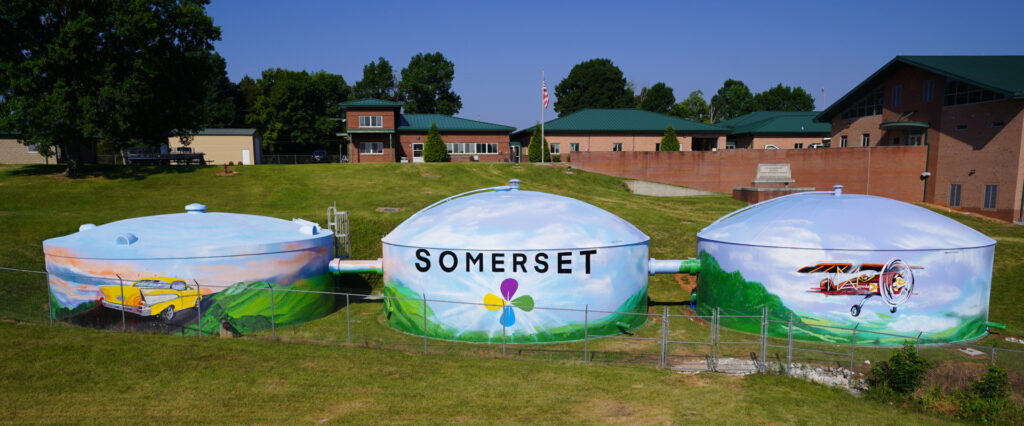 "The focal point is Somerset's logo, representing this wonderful community we have and all it has to offer," Justice said. 
Justice said this project is the largest area he has ever covered — a total of 10,800 square feet — requiring hours of prep work that included pressure washing and rolling a base coat. He used 65 gallons of paint on the three murals.
"The City of Somerset continues to challenge me with these projects," Justice said. "These steps are all necessary to get to my favorite part, which is illustrating some of the most wonderful things Somerset has to offer."
Justice is one of eastern Kentucky's most well-known outdoor mural artists. In addition to the water tanks, Justice has painted three murals on buildings in downtown Somerset, as well as outdoor murals in Elkhorn City and Pikeville. He partnered with Somerset artist Amanda Brooks to paint a large equine-themed mural outside Man O'War Harley Davidson in Lexington.
One bonus to this phase of the project was the addition of an understudy: Somerset High School senior and artist Elia Frazier worked with Justice for a day adding finishing touches, an opportunity she earned by winning SPEDA's high school art contest earlier this year.
Students were asked to submit a painting or drawing that depicts a landmark, signature location, or item that represents Somerset-Pulaski County, or a painting or drawing that represents what Somerset-Pulaski County means to them. Winners were selected by a panel of judges representing all of the partners in the beautification project. 
In addition to hands-on experience working with Justice, Frazier received a $250 cash prize and her winning artwork was displayed in the Pulaski County Public Library community room, along with the second and third place winners.
"That we were able to add an educational component to this project was truly the icing on the cake," Girdler said. "I am so excited that Elia was able to join Jordan on this journey. Because SPEDA takes a holistic approach to economic development, we look for projects that highlight the arts, education, workforce development — anything that improves our quality of life. There is no doubt that this project has done just that."
Somerset Mayor Alan Keck said he is thrilled with the end result.
"It's amazing how art can change perspective," Keck said. "At one time, these structures were white water tanks that served the important function of providing safe drinking water to our community. Now they also tell a story — a story of agriculture, music, art, history and pride in our community. I am so proud of this project and can't wait for people to experience it."