AppHarvest indoor farm nearly under roof; efforts to further develop SPEDA Commerce Park underway
Travelers through the Ky. 80-461 intersection in eastern Pulaski County are seeing remarkable progress on a $70 million road project that will bring significant economic development and traffic relief to the area.
Additionally, new industrial construction in this area is exploding, with AppHarvest's 30-acre indoor ag-tech farm nearly under-roof and a new commerce park approaching its second phase of development.
All of this progress can be contributed to historic collaboration between local, state and federal government entities and officials, said Chris Girdler, president and CEO of the Somerset-Pulaski Economic Development Authority (SPEDA).
"This is a game-changing and historic road construction project for our community and region," Girdler said. "We're seeing unprecedented speed in planning and construction. The Kentucky Transportation Cabinet and contractors on-site are doing incredible work, on time and on budget. Time will demonstrate what a catalyst for growth this road project is, as well as the element of safety it will bring to motorists."
The project — which includes installing a cloverleaf interchange at the intersection of Ky. 80 and 461, expanding Ky. 461 to four lanes from the intersection to Buck Creek, and building new entryways at Valley Oak Commerce Complex — is funded in part by a $25 million Better Utilizing Investments to Leverage Development (BUILD) federal transportation grant. The project also benefits from a $26.2 million state-federal apportionment, $12.8 million in state funds, a $5 million local match and other right-of-way donations.
Pulaski County Fiscal Court initially borrowed the $5 million local match, intending to share responsibility for the bond payments with the City of Somerset, SPEDA, and industries in Valley Oak in the form of a utility surcharge. But SPEDA and current administrations did not want to put that burden on existing businesses, Girdler said. To prevent this from happening, SPEDA voluntarily offered to shoulder the cost of the project for the first year — a $360,000 commitment — made possible by proper fiscal management and oversight. After a thorough review of all records, expenses and assets inherited from its predecessor organization, SPEDA has been able to save more than $300,000 annually since it was formed in 2019.
SPEDA will continue to shoulder the cost of the match until the bond is paid, taking a reduction in its annual budget to ensure existing companies are not financially affected, Girdler said.
"We felt this was no way to treat our existing businesses that provide so many jobs for our residents, put food on their tables, add to our tax base, and hope to expand in our community in the future," Girdler said. "What a terrible message that would send to other companies looking to relocate to our community."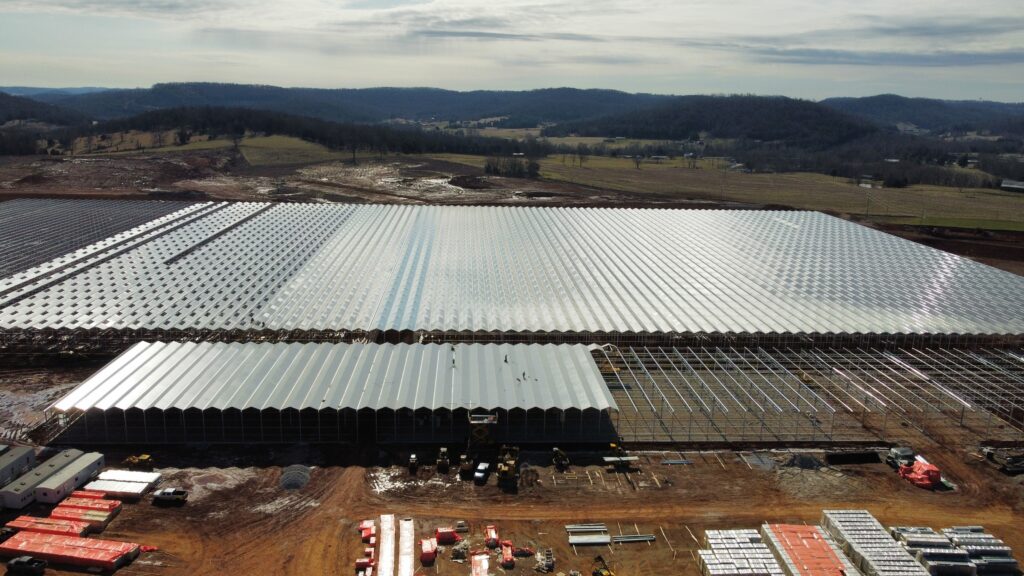 AppHarvest is one of those companies, a publicly traded Certified B Corp that last summer announced its intention to build a 30-acre sustainable indoor farm off of Ky. 461 that will grow berries. AppHarvest will bring hundreds of jobs to Pulaski County and directly benefit from the highway expansion project. The greenhouse is expected to be fully operational by late 2022, Girdler said.
"We are as excited about AppHarvest today as we were at their groundbreaking ceremony," Girdler said. "Theirs is a visionary model that is the future of agriculture. This project is the perfect marriage between community and corporation because so many of our values and goals align. It is simply an amazing facility that was aided greatly by our community's willingness to shoulder costs associated with road construction in this area. AppHarvest is disrupting the food supply industry in a very good way and we are grateful they chose Somerset and Pulaski County as their home."
AppHarvest's facility is part of a larger economic development expansion effort in the Valley Oak area that includes SPEDA Commerce Park, a 142-acre development that will offer certified build-ready sites to industrial prospects. The park's first tenant, the Kentucky National Guard, announced in August its intentions to build a new regional readiness center and field maintenance shop there on 18 acres.
Interlocal agreements negotiated in 2021 between the City of Somerset and Pulaski County Fiscal Court gave SPEDA $1.2 million in American Rescue Plan Act (ARPA) funds to further develop SPEDA Commerce Park. SPEDA's board of directors voted Feb. 3 to sell a section of the park that parallels Ky. 80 and will announce the new owners and their construction plans in the near future.
All of this, along with Team Modern's $30 million distribution center expansion and SPEDA's sale of property to Somerset Community College for a workforce training center, illustrates the growth happening in eastern Pulaski County and the significant potential it has to elevate the local economy, Girdler said.
"We envision the entire area in and around Highways 461 and 80, including SPEDA Commerce Park and Valley Oak Commerce Complex, to continue to grow and prosper," Girdler said. "We appreciate the incredible support and cooperation we've received from the City of Somerset, Pulaski County Fiscal Court, our state legislators, Senator McConnell, Congressman Rogers, former Transportation Secretary Elaine Chao and state and federal transportation officials that has helped move this project forward so expediently."