Award given annually to organizations that serve as a case study for how economic development professionals can elevate their efforts
If everyone is moving forward together, then success takes care of itself.
Somerset-Pulaski Economic Development Authority (SPEDA) President and CEO Chris Girdler often shares that quote from industrialist and Ford Motor Company founder Henry Ford to explain SPEDA's vision to build a stronger local economy. But as he quoted it again Sept. 7 from the stage during a "celebration of collaboration" at Laurel Little Theater in Laurel, Mississippi, he was demonstrating proof of Ford's sound advice.
SPEDA, Lake Cumberland Tourism and See Somerset Tourism were recognized as Stand Up Rural America (SURA) Trailblazers last week at the national economic development summit in Mississippi for the way their strategic alliances and intentional collaboration have propelled Somerset-Pulaski County to a period of economic growth and prosperity. Girdler, Lake Cumberland Tourism Executive Director Michelle Allen, See Somerset Tourism Director Leslie Ikerd, City of Somerset/SPEDA Communications Director Julie Harris and SPEDA CFO Jessica Carlton were invited to the summit to accept the award and discuss their successful partnership during a summit panel.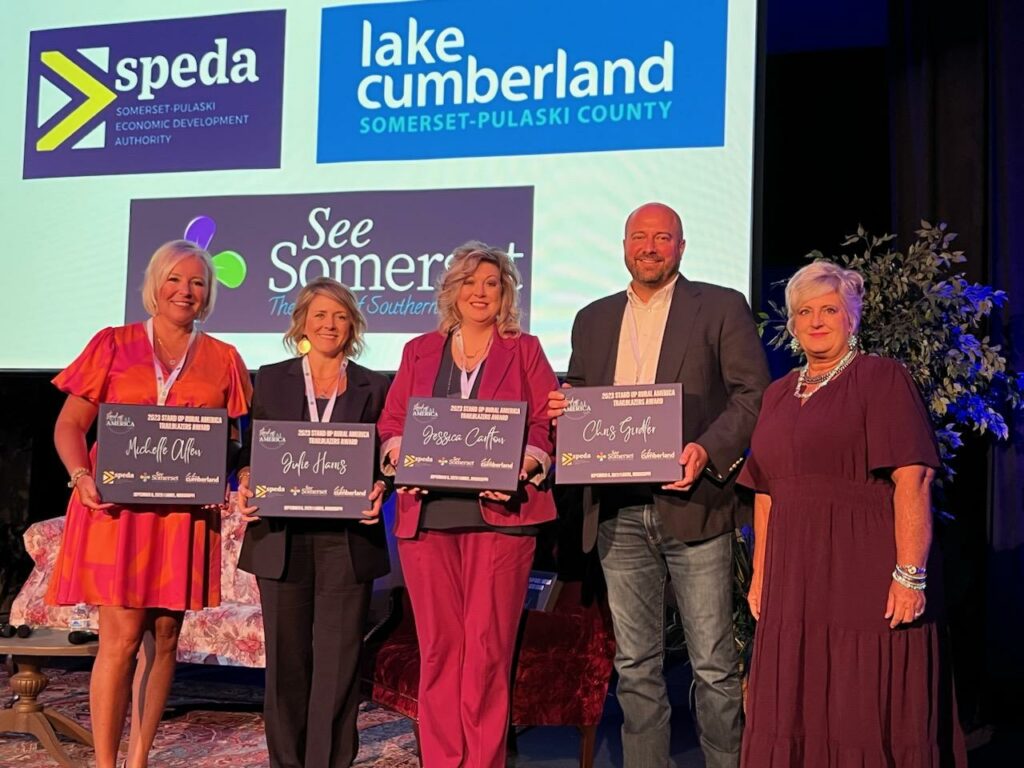 Lorie Vincent, founder and president of ACCELERATION by DESIGN LLC, which organizes the conference, said the summit recognizes an organization each year that serves as a great case study for how rural economic development professionals can take their efforts to the next level. Last year's Trailblazer Award winner was the South Carolina Power Team.
"While each organization has its own goals and objectives, SPEDA, Lake Cumberland Tourism and See Somerset Tourism have worked diligently to align their activities, to support each other's missions, to participate in collective events and to leverage each other's skills to benefit the citizens, prospects, industries, small businesses and visitors to their city and region," Vincent said. "Their selfless attitude of 'it doesn't matter who gets the credit because we all win' is a wonderful example of a city and region successfully running on all cylinders."
The Somerset-Pulaski team's five representatives have worked together on a number of initiatives since SPEDA was formed in 2019, including the groundbreaking for Horse Soldier Bourbon's $200 million distillery experience, public art projects, and hosting conferences and events for statewide groups like the Kentucky Association for Economic Development, Leadership Kentucky, and SURA. Vincent witnessed their partnership first-hand in 2022 as she organized the summit at The Center for Rural Development. Nearly 200 participants from across the U.S. spent two days in Somerset learning best practices in economic development during the event, which gives participants tangible tools and strategies to help cities, counties and regions grow.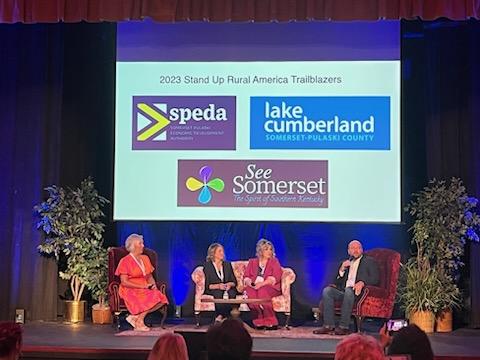 Girdler, Allen, Harris and Carlton shared with the audience the story of Somerset and Pulaski County's economic rebirth — of how changing the narrative of economic development from just building a spec building and hoping businesses will come to holistically improving quality of life has transformed the community. And they discussed how giving people from all economic sectors, organizations and walks of life a seat at the table has proven successful.
"We were incredibly honored to be recognized as Trailblazers at this year's Stand Up Rural America summit, and we enjoyed sharing our story with rural economic developers from across the country who are eager to see similar transformations in their communities," Girdler said. "While we've taken Henry Ford's advice to heart in Somerset and Pulaski County, what Lorie is doing with the summit is also a fantastic example of this type of collaboration on a national level. Economic development professionals are coming together each year from across the United States to learn from one another and celebrate the great work happening in rural America, and we are excited to be a small part of this outstanding movement."
The 2024 Stand Up Rural America Summit will be held July 31-Aug. 2 in French Lick, Indiana. For more information, visit www.standupruralamerica.com.