Group advocates for small and rural airports seeking to reestablish air service
The Somerset-Pulaski Economic Development Authority (SPEDA) and the Lake Cumberland Regional Airport (LCRA) continue their fight to bring commercial air service to Pulaski County by joining a national coalition of communities seeking to reestablish daily air service at their airports.
RESTORE — Restoring Essential Service To Our Rural Economies — works to build support for policy solutions that can offer relief for communities impacted by regional air service issues. One specific challenge is reopening the federal government's Essential Air Service (EAS) program to small and rural airports that have not had access since 2012. 
This is the program Pulaski County needs in order to recruit commercial air service, SPEDA President and CEO Chris Girdler said.
"SPEDA and its board of directors have been actively pursuing EAS designation and working diligently with aviation professionals, Congressman Hal Rogers, and Senator Mitch McConnell for three years to make this happen for our community," Girdler said. "Our region is united in this effort and SPEDA has received hundreds of letters from residents and members of the business community in full support of this endeavor. Joining RESTORE is the next step in our fight for this designation."
In 2020, the mayors of Somerset, London and Corbin, in partnership with their airport boards and economic development authorities, formed a regional alliance to transfer the London-Corbin Airport's dormant EAS designation to LCRA and allow it to be reactivated. A Memorandum of Understanding between the leaders of these three cities asks federal legislators to help initiate the transfer so that LCRA can recruit commercial air service while London-Corbin Airport works to become a regional hub for air cargo service.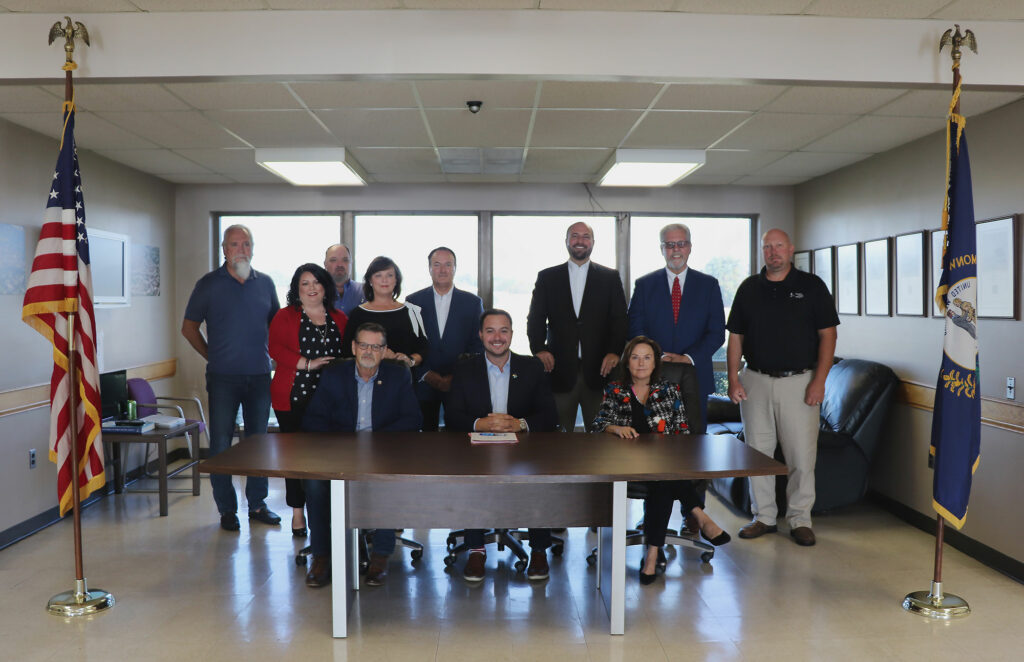 The EAS program was established after airline deregulation in 1978 to guarantee small communities served by certified air carriers could maintain a minimal level of scheduled air service. The U.S. Department of Transportation is mandated to provide EAS communities with access to the National Air Transportation System, generally accomplished by subsidizing two round trips a day with 30- to 50-seat aircraft to a large- or medium-hub airport. 
While London-Corbin Airport has this designation, it has not been used for some time. Transferring the EAS designation to LCRA would help the tri-city region compete nationally on tourism, economic development and quality-of-life initiatives, Girdler said. 
"Having commercial air service would not only help our residents have access to travel options from Somerset to anywhere in the world but also make it easier for others to visit The Capital of Lake Cumberland and the surrounding region," Girdler said. "Not to mention the benefits it provides local and regional companies who need to travel to be competitive. Because tourism is Pulaski County's No. 1 industry, SPEDA's board believes it is imperative that we do everything we can to bring commercial air service to our community."
RESTORE intends to help communities obtain EAS designation through Federal Aviation Administration reauthorization by creating a waiver for airports not currently EAS eligible. RESTORE proposes that EAS be re-opened for a five-year period for those airports. The coalition's members include airports and community organizations in Pennsylvania, New York, Maryland, Washington and Texas.
"Lobbying for this change to the EAS program is a long shot, but that should never stop us from pursuing endeavors that can bring generational change to our community and region," Girdler said. "We are committed to exhausting all options in our pursuit of improving our local and regional economy."
For more information about RESTORE, visit https://www.restoreairservice.org/.