Professional-level, multi-session leadership course offered at Somerset High School
The Somerset-Pulaski County Economic Development Authority (SPEDA) has launched a new leadership and entrepreneurship program at Somerset High School that immerses students in real-world business experiences and teaches them important skills to be successful in the workforce.
SPEDA partnered with BEST Edutainment President and CEO Brian Simmons to develop and facilitate the curriculum for its L.E.A.R.N. Academy (Leaderpreneur Entrepreleader Appreciation and Respect Nexus), which utilizes behavior-based professional development sessions and experiences with corporate leaders and entrepreneurs to reinvent workforce development.
Simmons facilitated the first session Nov. 19. During seven two-hour monthly courses, students will learn, establish and practice real-world workplace skills and behaviors that are aligned with required Kentucky academic, employability and occupational standards.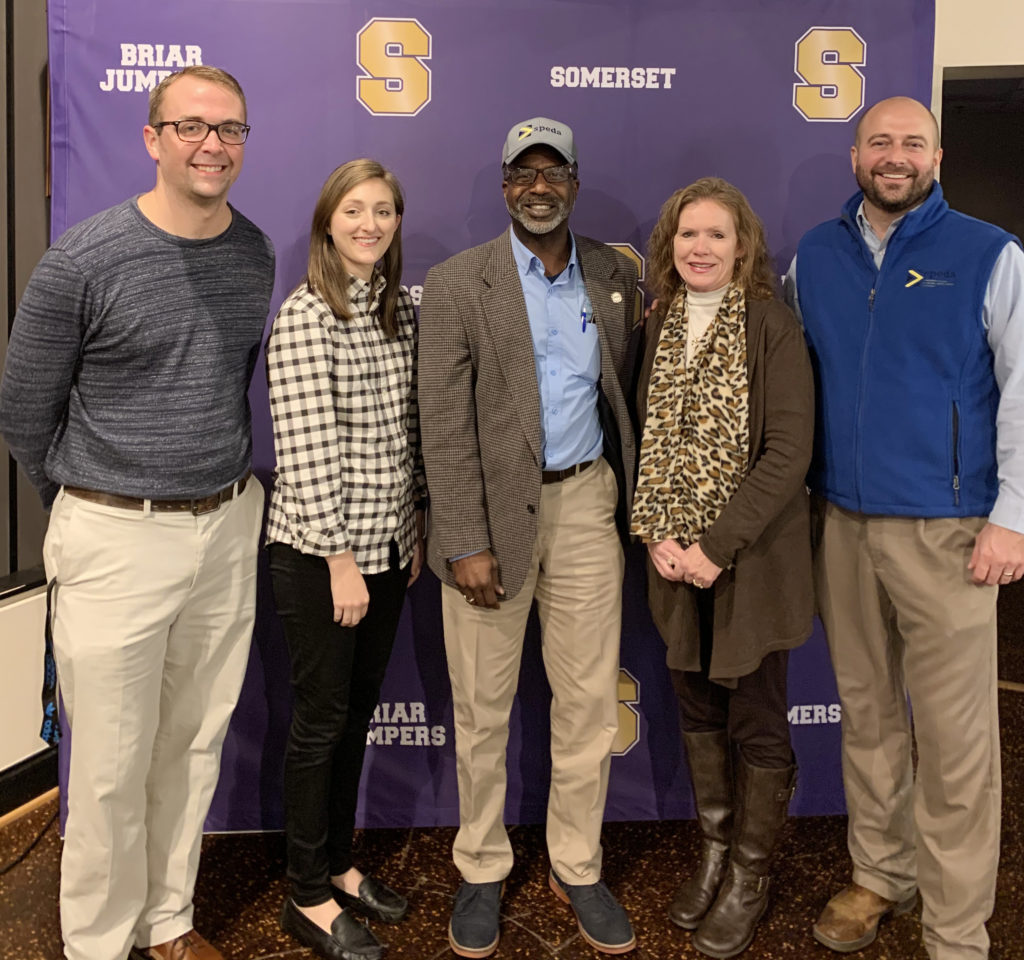 The idea for a public school initiative gained momentum recently when students in the Somerset High School Career Pathways program visited SPEDA's headquarters. After speaking to business and marketing teacher Debbie Harris, SPEDA President and CEO Chris Girdler said he was inspired to pilot a comprehensive, professionally developed training program that would bring engaging workforce experiences to her students.
"As we make business about people at SPEDA, we have to address the breadth and depth of the challenges that we are seeing with candidates entering the workforce," Girdler said. "The students in our community need to be equipped with the skills and behaviors that will be needed in order to be successful in the evolving workplace in our community and globally."
Harris said she was pleasantly surprised by the idea.
"After visiting the SPEDA office, I just felt that the students could benefit more if they had more time to ask questions and actually experience the situations of work and life," she said. "We are very excited to work with SPEDA and BEST Edutainment to provide our business and marketing students a leadership program that will help give them the knowledge and motivational tools to be successful leaders in our community."
Girdler turned to Simmons to help develop the L.E.A.R.N. Academy because of Simmons's detailed workforce management, curriculum instructional design and facilitation experience. A Somerset resident and Society of Human Resources Senior Certified Professional, Simmons leads an organization that creates, designs and presents impactful keynote presentations, conference workshops and sessions, customized instructional courses for businesses and broadcast media shows that are educational, engaging and entertaining.
BEST Edutainment is regularly featured on CBS television affiliate WKYT's Kentucky Newsmakers and has a client roster that includes Toyota Motor Manufacturing of Kentucky, Applied Behavioral Advancements, the Kentucky Chamber of Commerce, UK Federal Credit Union, Somerset/Pulaski Co. Chamber of Commerce, Secure KY and the Kentucky Bar Association.
"Brian and I worked on a few smaller projects together over the past several months and we were able to often voice the same visions and thoughts about workforce development, specifically in Somerset," Girdler said. "I've seen Brian's work. His style of facilitation and his interactive exercises resonate with the students. He also encourages them to take positive action and make decisions based on knowledge gained during his keynote presentations and workshops. We received positive feedback immediately after completion of the first session with 38 students."
Simmons said he was excited to create another learning academy environment from the ground up.
"When Chris and I initially discussed the project, I knew we were creating a platform that could exist and benefit the community long after we're gone if done properly. That's what prompted the idea of an academy," he said.
The inspiration behind the L.E.A.R.N. acronym begins with the idea that a leader must possess entrepreneurial skills just as an entrepreneur must possess leadership skills to be successful, Simmons said. In two separate surveys that measured the most wanted attributes in the workplace, appreciation and respect were No. 1 on their respective lists. A nexus is a connection or link of the people, theories and ideas within the academy.
Should this pilot program continue to succeed, Girdler said he hopes to introduce the L.E.A.R.N. Academy to Pulaski County and Southwestern high schools in the 2020-21 school year.
"I love Brian's vision and purpose for the L.E.A.R.N. Academy and look forward to helping him and others in our southern Kentucky area achieve their professional and personal goals in life while changing the world for the better," Girdler said.
For more information about the SPEDA L.E.A.R.N. Academy or how to get involved, contact Brian at brian@bestedutainment.com or Girdler at chris@speda.org.