Winners include The Suit Shoppe, The Evans Tavern & Inn, Southern Vines Wine Salon and the Somerset Goings On podcast 
The Somerset-Pulaski Economic Development Authority (SPEDA) issued its fourth round of mini-grants today, and of the highest order among recipients: Drawing attention to their businesses and the community.
Recipients include three businesses seeking signage and facade improvements to help promote their establishments, and one seeking equipment to simply promote the people and stories of Somerset. The Suit Shoppe, The Evans Tavern & Inn (aka, The Evans House), Southern Vines Wine Salon and the Somerset Goings On Podcast Series were selected from a pool of seven applicants.
SPEDA's mini-grant program awards $2,500 to four local businesses with plans to innovate and expand their operations. Launched in 2020, the mini-grant program provides strategic investments to businesses currently operating or in the start-up phase in Somerset-Pulaski County. It is an annual initiative for the organization, made possible through good management and proper financial oversight at SPEDA that has helped the organization save thousands annually.
While this year's list of winners represents a diverse mix of business sectors, SPEDA President and CEO Chris Girdler said, they share a common goal — promotion.
"And that is truly special," Girdler said. "These business owners are keenly aware of what is needed to attract customers and visitors to this community, and that gives me every confidence they will be successful. They also understand the ripple effect they can have on the local economy through their investment and that is invaluable. We are thrilled we can be a partner in helping grow their businesses and are excited to see their innovation in action."
Local businesses are invited to apply for a variety of projects, including but not limited to strategic planning and management; purchase or physical improvements to facilities or equipment; training; or leadership, planning and management capacity initiatives.
Applicants are required to demonstrate their benefit to the community — presenting an overall plan, specific need for investment and ways in which funds will be utilized. 
For Trey Bray, owner of Legendary Sun Media Solutions and host/producer of the Somerset Goings On podcast, the benefit is helping people in and around Somerset learn more about the stories behind so many of the community's well-known events, organizations and people.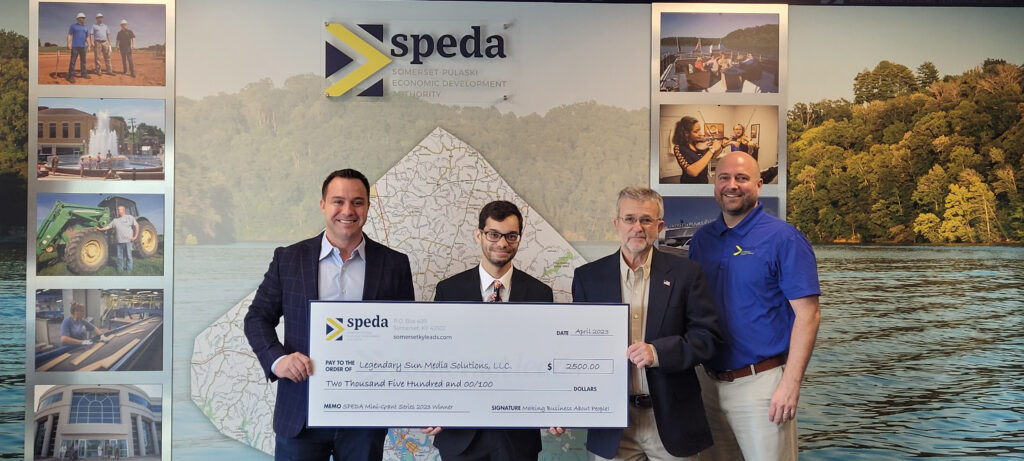 "This project was initially created when I realized the consistency of engagement did not match the depth of knowledge," Bray said. "Everyone loves going to see a Flashback Theater show, but how many people know the story behind the name? People hear (Somerset 106 personality) Greg Moore on the radio every day, but how did he get behind a mic in the first place? These questions stood out to me and I realized that I could get the answer to them myself, and if I was interested in knowing, who else was too?"
Bray will use his mini-grant to purchase podcast equipment — microphones, cables, headphones, cameras and video-editing software — to help him professionally produce the show. He said he is grateful to SPEDA for helping him purchase gear and resources previously unavailable to him, and for the legitimacy and confidence receiving this mini-grant lends to his project.
"Receiving this grant is a truly humbling experience," Bray said. "To think that there's such faith in my ideas and such willingness to see me succeed, words cannot describe the gratitude I feel."
Enhancing the exterior of their building and giving customers a beautiful environment in which to enjoy wine and music is the goal of Southern Vines Wine Salon, which will soon open downtown on East Mount Vernon Street. Owned by Jake and Lee Redmond and located within walking distance of The Virginia and other downtown restaurants, the salon will offer a place for people spending an evening downtown to stop and learn about wines sourced from around the world.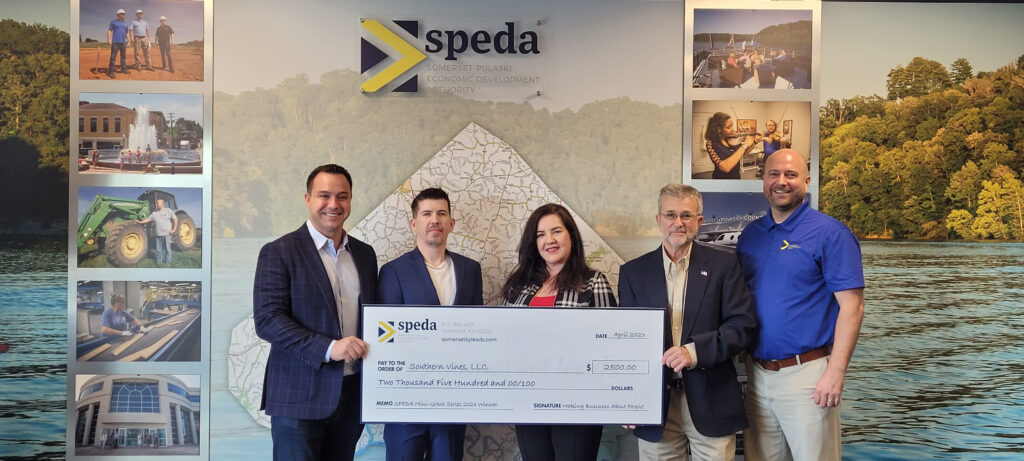 The Redmonds' mini-grant will fund facade improvements such as removing metal and damaged wood and bricks from the building, replacing windows and doors, painting the building, adding metal cables to the existing awning, and installing outdoor lights.
"Southern Vines is excited to create an oasis in downtown Somerset to welcome you into the magical world of wine," Lee Redmond said. "We want to thank SPEDA for their belief in our endeavor. This grant will help us make the facade of our building as beautiful as the rest of downtown Somerset. We look forward to raising a glass with you, as we drink history in a bottle!"
Krissie Reffner hopes to share history in a different way with those who visit her bed and breakfast located off Highway 461. Reffner is restoring The Evans House — listed on the National Register of Historic Places — which was been built in the 1830s and once owned by a Revolutionary War veteran. Local attorney Bruce Orwin helped Reffner research the home's history, and now she will use SPEDA mini-grant funds to tell others about it through the installation of two historic markers at the house and its outdoor kitchen.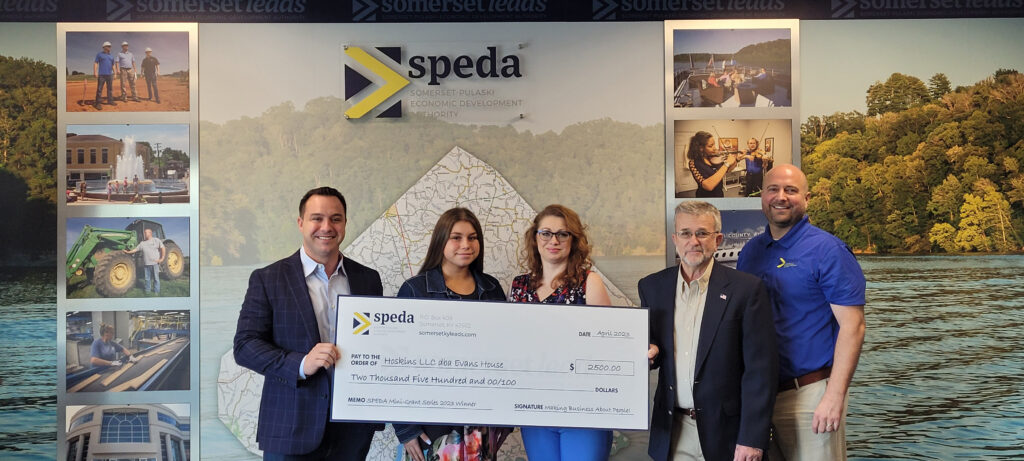 "I am absolutely in love with restoring The Evans House," Reffner said. "I look forward to sharing its rich history and beauty with the rest of Pulaski County. Thank you, SPEDA, for getting the Evans Tavern & Inn off to a great start."
Signage is in high demand for this year's winners and the final recipient is no exception. Tim Cox, owner of The Suit Shoppe on South Main Street downtown, will use mini-grant funds to improve the visibility of his store, which offers high-end menswear to the community — an amenity Somerset residents have otherwise had to drive 45 minutes to find.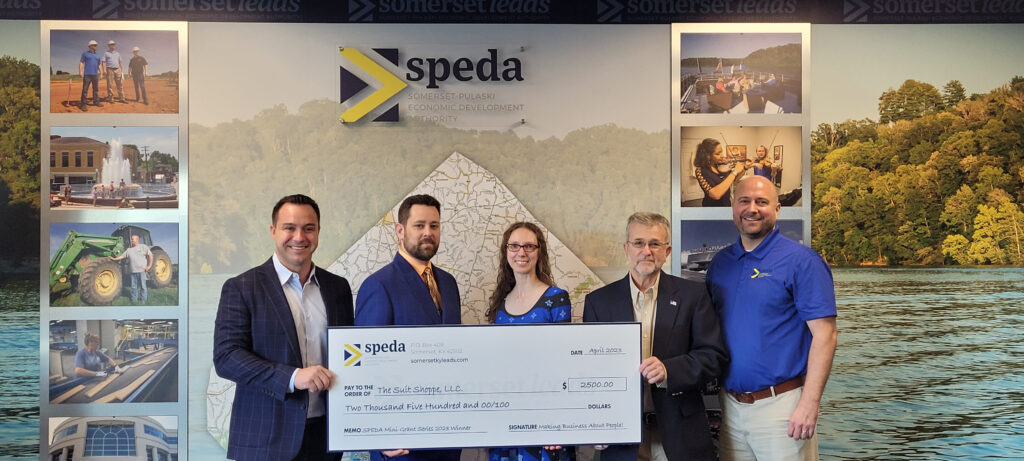 Cox will purchase two signs for his store, located in the rear, basement level of the 211 S. Main St. building — which he hopes will draw attention to his retail business and improve the aesthetic appeal of this section of South Main Street.
"We are so thankful for this grant from SPEDA to improve the visibility of The Suit Shoppe," Cox said. "When we decided to open the business, we really wanted to be a part of downtown Somerset, but available retail space was very limited. This should really help people find our store and make us their first stop for nice menswear." 
SPEDA will feature each of these businesses in-depth in the coming months.