Recipients each receive $2,500 to innovate and expand operations
The Somerset-Pulaski Economic Development Authority (SPEDA) has issued its third round of mini-grants to three female-owned-and-led enterprises as well as one of Lake Cumberland's signature destination businesses.
SPEDA's mini-grant program awards $2,500 to four local businesses with plans to innovate and expand their operations. Wake Cumberland Watersports, Somerset Vision Center, Woodstock Lavender Co. and Balltrip Voice Studio were selected as winners this year from a robust pool of applicants.
The program, launched in 2020, provides strategic investments to businesses currently operating or in the start-up phase in Somerset-Pulaski County. It is an annual initiative for the organization, made possible through good management and proper financial oversight at SPEDA that has helped the organization save thousands annually.
SPEDA President and CEO Chris Girdler said he is excited to be supporting small businesses that fill such important roles in the community's top industries — tourism, agriculture, healthcare and the arts.
"Our community has a wonderfully diverse business base and all of these businesses, both large and small, come together to provide an outstanding quality of life and place in Somerset and Pulaski County," Girdler said. "Small businesses are the heartbeat of Main Street and a vital part of our overall economic success. SPEDA will always prioritize reinvesting funds we save back into these operations. Paying forward that spirit of innovation is extremely important."
Local businesses are invited to apply for a variety of projects, including but not limited to strategic planning and management; purchase or physical improvements to facilities or equipment; training; or leadership, planning and management capacity initiatives.
Applicants are required to demonstrate their benefit to the community — presenting an overall plan, specific need for investment and ways in which funds will be utilized. Two grants are awarded to two start-up companies that are looking to begin operations and/or have been in business for less than one year, and two growth-oriented businesses that have been in business for more than one year.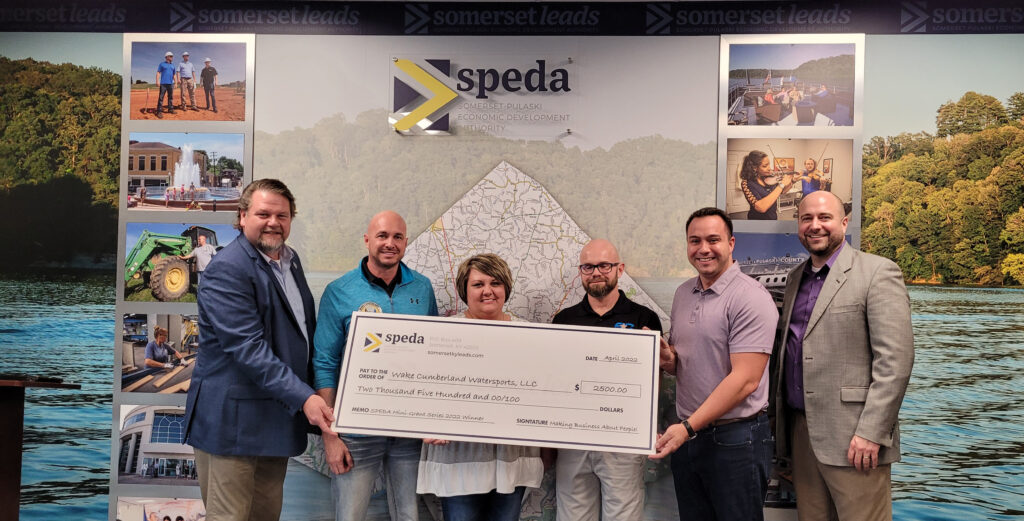 For Wake Cumberland Watersports, that benefit is investing in employees and the community's workforce. The company's proposal described the benefit of professional development opportunities — they not only benefit the individual and employer, but also help that person build purpose, be fulfilled, and improve his or her drive for success — building loyalty and productivity. Wake Cumberland's mini-grant will be used to enroll its lead canvas and upholstery technician in an advanced canvas training course in Annapolis, Maryland.
"Wake Cumberland Watersports is grateful to be selected as a recipient of a SPEDA mini-grant," co-owner Greg Dalton said. "Not only will this training enhance Darlena's skill set, but she can share her knowledge and help develop other teammates, all while improving finished product quality and efficiency. Thank you to SPEDA for making mini-grants available to small businesses like Wake Cumberland Watersports."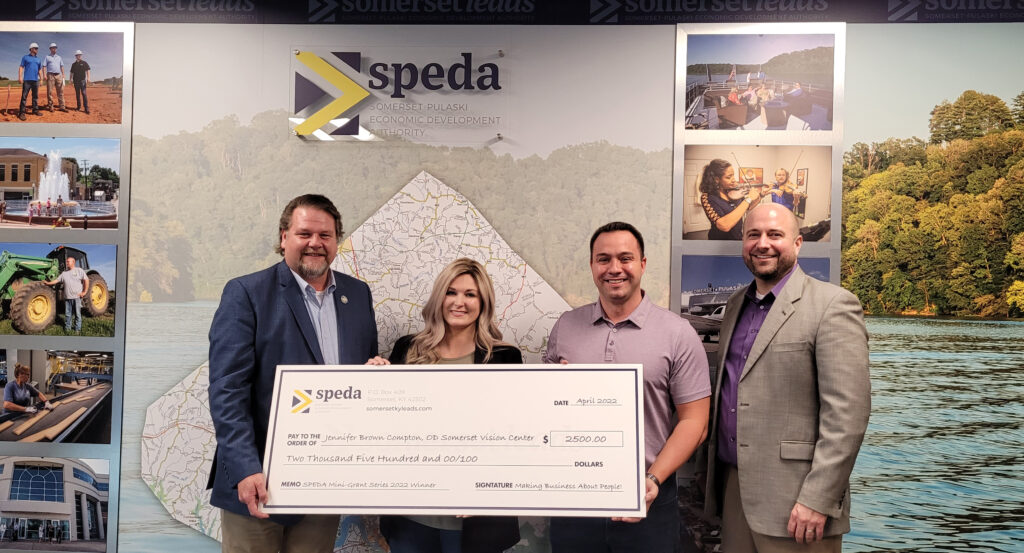 Somerset Vision Center, led by Jennifer Compton, OD & Assoc., will use its mini-grant to improve healthcare access to children in Pulaski County. Compton said her goal is to bring eye care and vision services to more children by serving them with a mobile eye clinic while they are at school, eliminating traditional barriers to receiving care like time and transportation.
"We feel honored to have received a SPEDA mini-grant," Compton said. "This will help us reach our goal of bringing eye care and vision services to more children in our community by serving them while they are at school. I get excited about any project that is aimed to give back to the community, especially when it comes to children. It's nice when other organizations, like SPEDA, see the benefit in doing the same."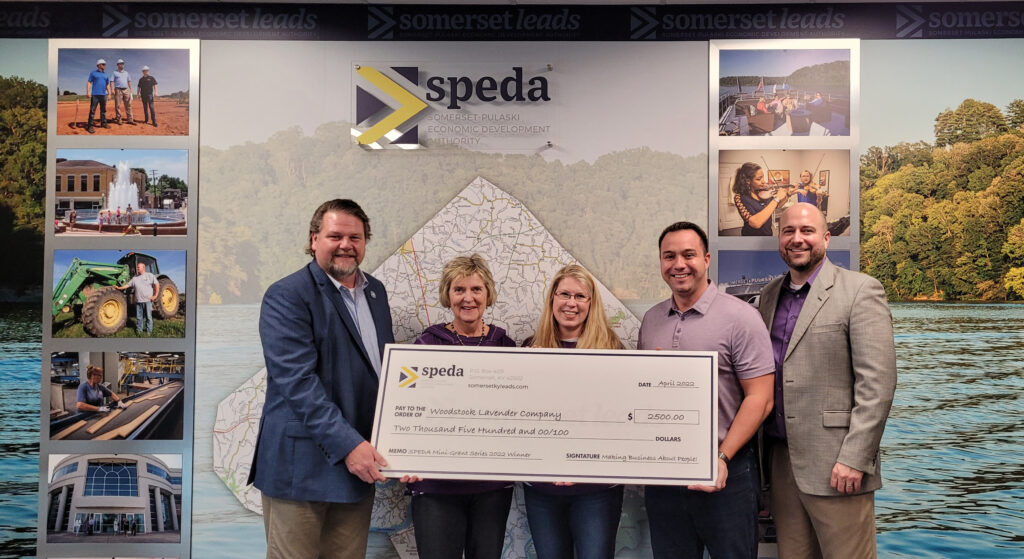 Mother-daughter-duo Mary May and Allison Horseman started Woodstock Lavender Co. nine years ago as a way to continue the legacy of agriculture on their family farm while also providing a unique destination experience. In that time, thousands of visitors from across the country have visited the farm during peak growing season to attend events, purchase handmade products and cut fresh lavender. May and Horseman are using their mini-grant to add a butterfly hoop house at the farm, which will be filled with native Kentucky and butterfly-loving plants. Woodstock Lavender Co. would seek certification as a Monarch habitat, hatching and tagging Monarchs and other species of butterflies.
"As a small business, having funds to add or expand offerings is invaluable," Horseman said. "Thanks to the SPEDA mini-grant, Woodstock Lavender Co. will be able to pursue building a butterfly house that will not only attract butterflies but also offer new educational activities and attractions during our lavender growing season. We are appreciative of the attention and emphasis SPEDA is placing on supporting the local and small businesses that are the backbone of our community."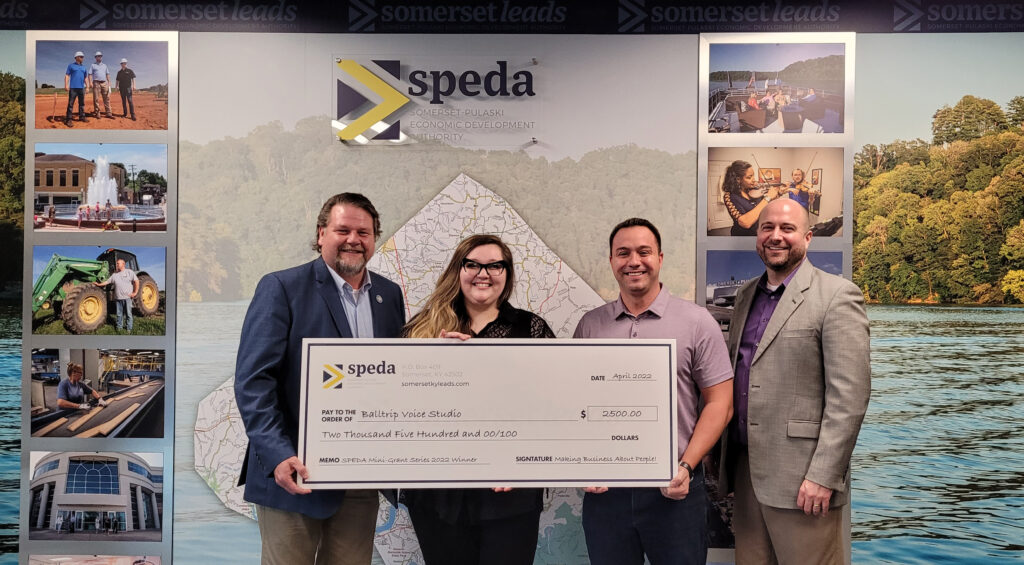 Educational opportunity is also a focus of Balltrip Voice Studio's mini-grant project. Owner Amanda Balltrip plans to purchase equipment and seek training for SoundJack, a low-latency communication system that provides a virtual environment where musicians can create in time together. Because this technology has virtually no lag time, Balltrip will be able to host virtual lessons with her students "without missing a beat, literally." Virtual lessons are the future of private music education, Balltrip said, and will not only benefit her current clients but allow her to expand across the country.
"The SPEDA mini-grant provides a major opportunity for growth for my small business," Balltrip said. "I am grateful to the SPEDA board for valuing the arts as a vital part of economic development. Their support will allow me to reach more students and provide more educational and artistic opportunities for them and the community. I would encourage any small business to apply for this grant in the future."
SPEDA will feature each of these businesses in-depth in the coming months.