The Suit Shoppe fills a retail void in downtown Somerset
Editor's note: This is the first of four profile pieces highlighting the 2023 winners of SPEDA's mini-grant program. SPEDA's mini-grant program awards $2,500 to four local businesses with plans to innovate and expand their operations. The mini-grant program is an annual initiative made possible through good management and proper financial oversight at SPEDA that has helped the organization save thousands annually.
Tim and Crystal Cox are bringing style to Somerset, Kentucky.
No matter where you live, selecting a piece of men's formalwear or finding your particular style can be arduous and daunting. Knowing what to buy and where to purchase it — perhaps even having to drive hours to find it — can make buying a suit feel like a chore.
It was on that personal level that the Coxes first recognized the need for a formalwear store in downtown Somerset.
"[My husband] Tim has always liked to dress sharply and he got tired of driving to Lexington and elsewhere to find the suits that he likes," explained Crystal, who also serves as the executive director of the United Way of South Central Kentucky. "Locally, there aren't many options in that vein. The big box stores have suit options, but they are often basic and not very stylish or don't offer a range of extended sizes."
Those factors fueled a desire in Crystal and Tim to bring to Somerset the types of menswear Tim would often drive hours to find somewhere else. And thus, in April, The Suit Shoppe was born.
"We saw a gap in the community and wanted to fill that gap," Tim said. "We're able to offer all the things that big box stores don't while staying competitive on pricing."
But to do so, the Coxes needed more visibility in the wider community, which is why the Somerset-Pulaski Economic Development Authority (SPEDA) mini-grant program has been such a boon for the couple. The Suit Shoppe was awarded a mini-grant earlier this year to assist with creating new signage that will face their Main Street location.
"Without this funding, we would not have been able to have permanent, professional-looking signage," Crystal said. "We had two yard signs at the parking lot entrance, but could not afford building-mounted signs without this grant."
Crystal will design the signage, which will then be created and installed by Somerset Printing & Sign Co. LLC. The graphics and sign, the Coxes hope, will help add to the already modern appeal of downtown Somerset.
The Suit Shoppe is just the type of endeavor that made it a perfect choice to receive a mini-grant from SPEDA. The Coxes saw a need in the community that might not have necessarily been evident at first blush, but they believe will make a definite, positive impact on the residents of Somerset and Pulaski County.
That impact, as Crystal recounts, can be seen in the eyes of their customers, especially when they slip into the suit that "suits" them for the first time.
"When a customer comes in and puts their trust in you, it's just great," Crystal said. "To help put them in something they'll look good in and they try it on the first time, you can see it in their face in the mirror."
Tim, Crystal says, has a good eye and can help with any customer needs, whether they have something specific in mind or are in the mood to be bold, adventurous, and step outside their comfort zone.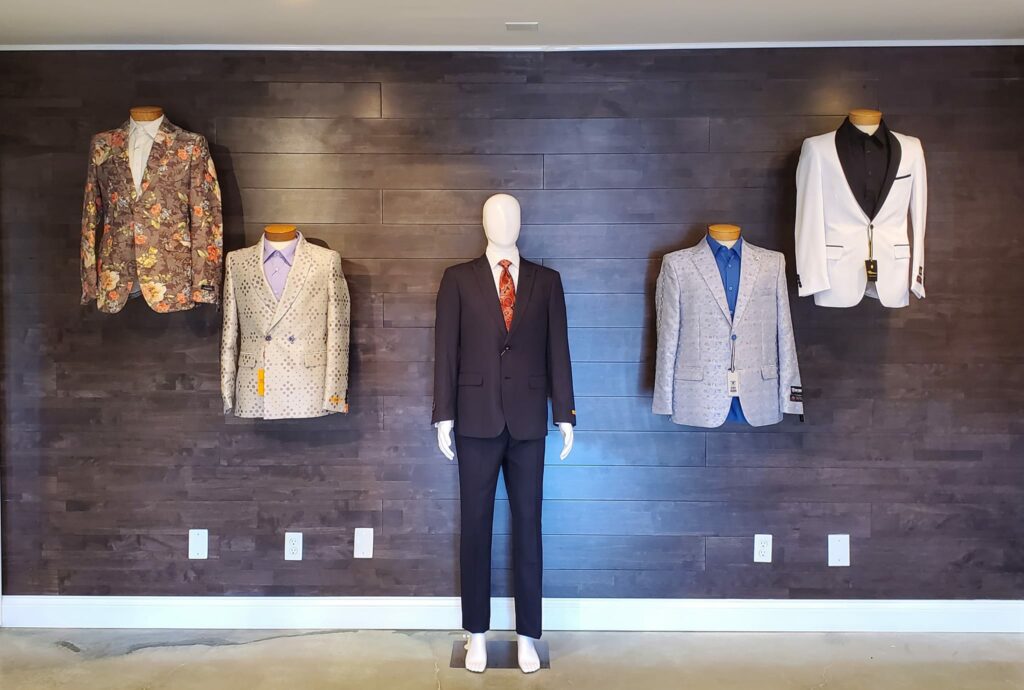 To that end, it all goes back to three goals: affordability, style, and accessibility.
"When we started, we knew we wanted to provide fashionable pieces that you didn't have to travel far to get," Crystal said. "We provide everything from standard business suits to over-the-top flashy colors and sequins to everything in between. We have tuxedos, bowties, tie clips, belts," noting that what they do not have in store, they can custom order.
Being able to focus on customer service is one of the things the SPEDA mini-grant has helped alleviate for the Coxes.
"This grant helped relieve stress for us by providing much-needed funding," Crystal said. "It also encouraged us to know that our local economic development group cares about small business."
That, in turn, is one of the driving forces behind the philosophy of The Suit Shoppe.
"We care about community involvement and The Suit Shoppe is in that spirit," Crystal said. "Tim and I live here. We know our community. We wanted to bring something to our community that hasn't been here in several decades. We wanted to take away the barriers of long travel and accessibility to buying a suit. And maybe knowing a friendly face from the community will help in the journey of getting that perfect suit."
Community involvement and commitment to Somerset's people. The perfect fit.