Wake Cumberland Watersports seamstress now leads upholstery shop and is a certified canvas technician
Editor's note: This is the first in a four-part series highlighting the 2022 recipients of SPEDA's mini-grant program. The program awards four $2,500 grants to businesses that aspire to innovate and grow.
When Darlena Johnson joined Wake Cumberland Watersports in October 2020, she had extensive sewing experience. 
"But I knew absolutely nothing about upholstery," she said with a laugh, the sound of a sewing machine clicking in the background.
She'd built a career out of loving to sew, making clothing at Osh Kosh Sewing Factory in Tennessee until it closed as well as military products at Patriot Industries in Monticello. But working with canvas was a whole new ballgame — and fashioning items like houseboat party and bimini tops, sun screens and boat railings was a completely foreign process.
"When I came in, I let (Wake Cumberland Co-Owner) Greg (Dalton) know that, on a whim, he said, 'I think I'm gonna give you a try,'" Johnson said, "because I did have all of the sewing experience."
It turned out to be a safe bet and a huge boon for the business, which in addition to canvas and upholstery offers custom boat flooring, watersport excursions, jet ski kits and just about any watercraft addition a boater's heart desires. Johnson now leads Wake Cumberland's upholstery shop after being with the company just two years and is a certified canvas technician — having attended Boat Canvas University in Annapolis, Maryland, with the help of a Somerset-Pulaski Economic Development Authority (SPEDA) mini-grant. 
In her class of five, Johnson was the only participant in the advanced canvas training course from Kentucky and the only female in the program. While others were just starting their marine businesses, Johnson was the only seamstress actively working in an upholstery shop, so instructor John Cavendar was able to offer her personalized instruction that she could take back to Somerset to apply. 
"He showed us the proper technique and the easiest way to achieve a common goal," Johnson said. "I learned so many things while I was there and he showed me a lot of tools I can use to improve anything I'm doing."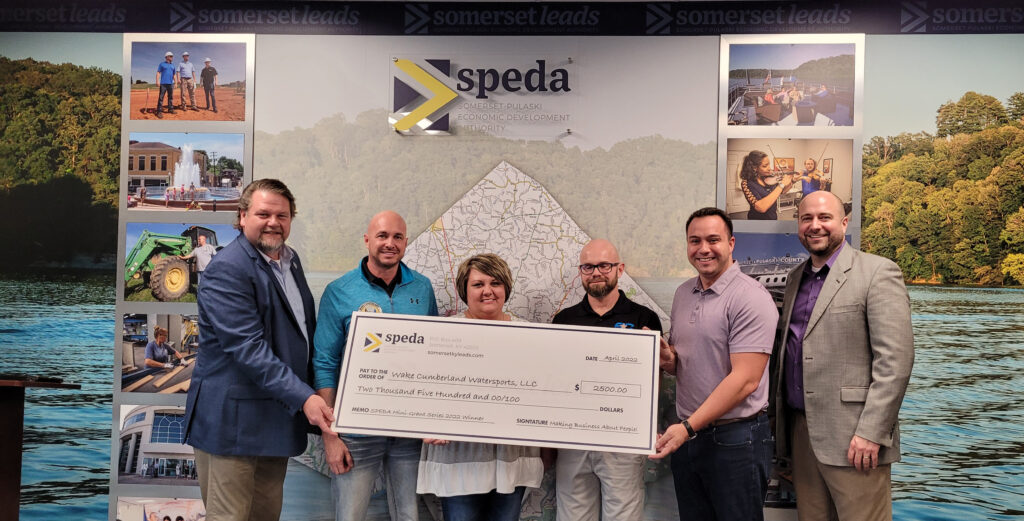 When asked about the benefit of attending the program through the help of the SPEDA mini-grant, the sound of the sewing machine that textured Johnson's words was proof positive she was putting her knowledge to work.
"Honestly, I think it was an opportunity of a lifetime," Johnson said, pausing from her work to reflect. "There are several canvas shops here on Lake Cumberland, but being able to say we have a certified canvas technician is a big plus for us in attracting business.
"I think experience and quality of work that you're putting out the door mean the most of anything, and word of mouth goes a long way too," Johnson continued. "You build a reputation and that helps a lot. But it also gives you a leg up as well to be able to say not only does Wake Cumberland do good work, but now they have a certified canvas technician. And now, I have started teaching others how to do the same thing I do."
For Wake Cumberland Watersports — owned by Greg Dalton and Kyle Damron — the benefit is investing in employees and the community's workforce. The company's mini-grant application described the benefit of professional development opportunities: They not only benefit the individual and employer, but also help that person build purpose, be fulfilled, and improve his or her drive for success, building loyalty and productivity. 
"Not only did this training enhance Darlena's skill set, but she can now share her knowledge and help develop other teammates, all while improving finished product quality and efficiency," Dalton said. "We are grateful for opportunities like SPEDA's mini-grant program that help small businesses like Wake Cumberland Watersports be competitive."
To learn more about Wake Cumberland Watersports and the services the company provides, visit https://www.wakecumberlandwatersports.com/ and follow them on social media @wakecumberlandwatersports.