Thriving Woodstock Lavender Farm adds butterfly habitat with SPEDA mini-grant
Editor's note: This is the second in a four-part series highlighting the 2022 recipients of SPEDA's mini-grant program. The program awards four $2,500 grants to businesses that aspire to innovate and grow.
The story of Woodstock Lavender Farm & Co. starts with $600.
L.G. Colyer — the father and grandfather of owners Mary May and Allison Horseman — borrowed that sum to buy a farm in northeastern Pulaski County. During the Great Depression, he was forced to travel to Detroit to find work in order to save the farm. For two years, he sent money home to save the land.
Today, the Colyer Farm is home to May and Horseman's thriving agritourism business. The acres that were once worked for crops and livestock now hold more than 800 lavender plants and host thousands of people who visit annually to cut fresh lavender, partake in tea and farm-to-plate meals, practice yoga, and purchase Kentucky Proud lavender products for the bath, body, home, and kitchen.
Soon visitors will have a new experience at the farm — a butterfly house that will enhance the environment and offer an educational opportunity for adults and children alike. A 20-by-24-foot high tunnel is being constructed on-site with the help of a $2,500 Somerset-Pulaski Economic Development Authority (SPEDA) mini-grant, and will be filled with native plants that create a habitat for monarch and swallowtail butterflies.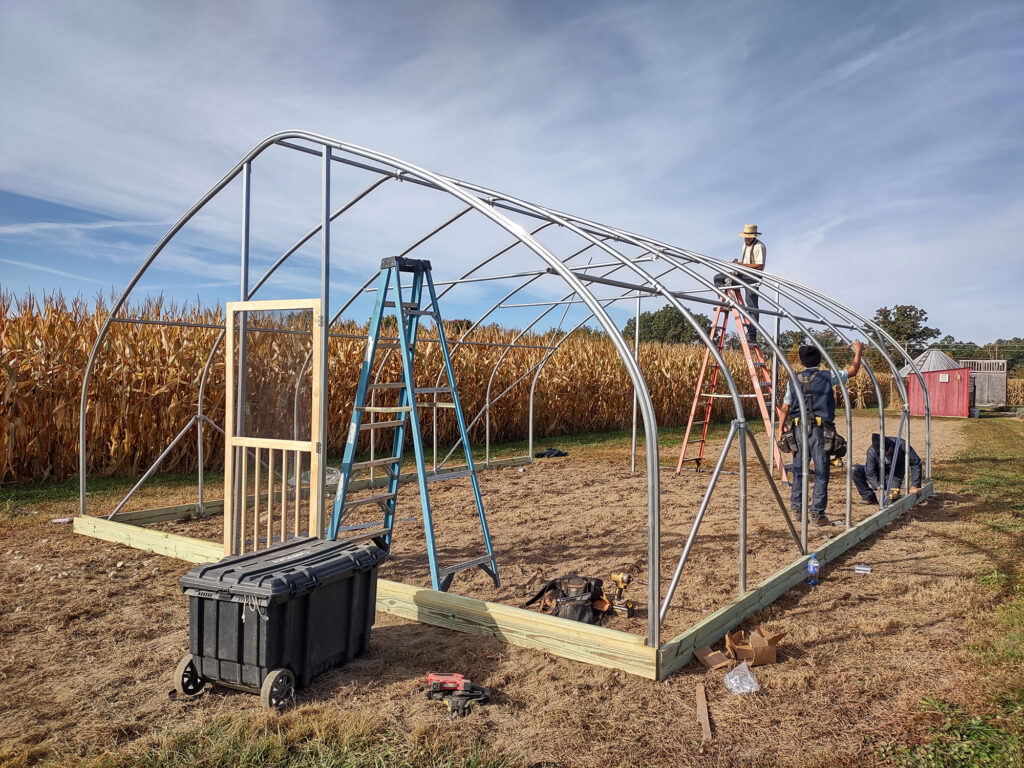 The SPEDA mini-grant program was created to support small business innovators, and May and Horseman certainly fit the bill — since growing their first plants nearly 10 years ago, this mother-daughter team has been resourceful in finding lavender farmers from whom to learn and grant funding to support their dream. Their farm and product line has grown exponentially in those 10 years, and their farm was recently highlighted by Southern Living as "12 Mother-Daughter Businesses We Love."
The idea for a butterfly habitat was born from seeing similar experiences within their network of lavender farmers.
"The farm has been growing, and we've been doing new and different things, but we've been lacking in what we can offer kids," Horseman said. "A butterfly house was a great way to add another educational opportunity during the season. Butterflies are not only beautiful but are pollinators in general and important for crops of all types. Adding them will be beneficial to our environment and will allow us to offer a unique experience to visitors."
Though they discovered this idea several years ago, May and Horseman had not had the bandwidth to add something new to the farm until recently.
"And honestly I don't know if we would have without the SPEDA mini-grant," Horseman said. "It was the catalyst to give us the push we needed."
Since being awarded the grant earlier this year, May and Horseman have spent time meeting with others who raise butterflies to ensure what they build at Woodstock Lavender Farm is sustainable and manageable. They have sourced native, butterfly-friendly plants like milkweed through local master gardener Melanie Lawless and county horticulture agent Beth Wilson. They are planning to partner with Idlewild Butterfly Farm in downtown Louisville to purchase their initial population. Once released in the butterfly house, Horseman said, the hope is the butterflies will then lay eggs on native plants and reproduce.
The long-term goal is to become a site that assists in natural butterfly species preservation, which may include becoming an official monarch way station.
"The public would be able to participate in butterfly releases with us," Horseman said.
When people visit the Woodstock Lavender Farm butterfly house in 2023, they'll follow a path through the high tunnel, which is covered in netting to protect the butterflies from predators. They'll learn about native plants as they walk along with butterflies flying around them. Nectar cups will be available for feeding.
"It's going to be a great addition to the farm, something unique that will potentially give us the opportunity to host school groups, which we can't really do right now because of the timing of our season," Horseman said. "It may also allow us to extend our season and offer more things to the community."
Woodstock Lavender Farm is typically open from late May through the month of June, with special events scheduled throughout the year. Butterfly releases will most likely occur at regular intervals throughout the farm season.
While there's more to raising butterflies than Horseman ever imagined, she and her mother are excited for the opportunity to grow and learn and are grateful for the support they have continued to receive from the community.
"I think that this mini-grant and the support that our farm has received from the community really shows our community is putting their money where their mouth is," Horseman said. "A lot of people in leadership are realizing what gems we have in Pulaski County. If you actually sit down and look at the farms we have here, as well as the unique small businesses, we have a very strong local economy. I think it's easy to lean toward the bigger projects that come into town, the larger corporations, and those of course are extremely important too. But our small businesses really are the backbone of our community. SPEDA offering this grant as a cash infusion to do something unique further solidifies that mission."