SPEDA, Chamber initiative introduces local educators to workforce needs
Somerset-Pulaski County's Bus to Biz program has hosted its second field trip, introducing 85 more local educators to job opportunities available in the community.
A partnership between the Somerset-Pulaski Economic Development Authority (SPEDA), the Somerset-Pulaski County Chamber of Commerce, public school districts and the industrial community, Bus to Biz ensures teachers are aware of the community's workforce needs so they can appropriately guide students who may be interested in those careers.
Three of Pulaski County's top employers – Hendrickson, Toyotetsu America (TTAI) and Lake Cumberland Regional Hospital — presented to Southwestern High School teachers during the second event April 10.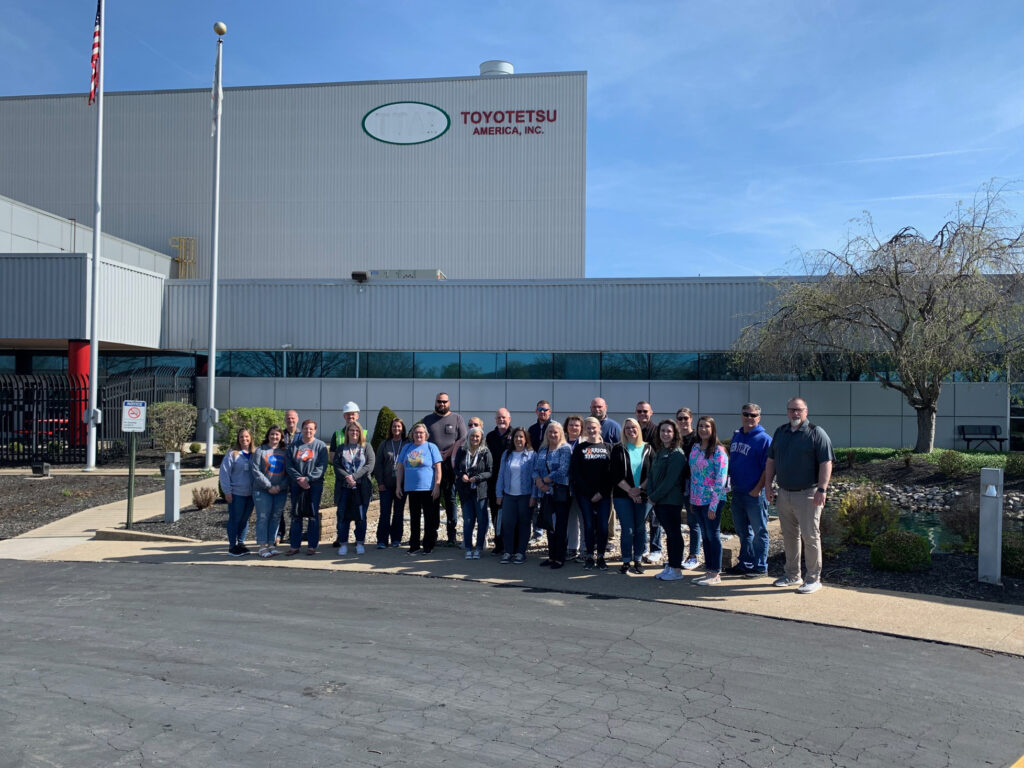 As educators help students choose career paths and develop curricula to teach those career paths, understanding the local workforce is critical, SPEDA President and CEO Chris Girdler said.
"Retaining our community's best and brightest students by making this a place they want to stay and raise families is crucial to maintaining a competitive workforce pool," Girdler said. "We have to start early, helping high school students understand what jobs are available to them here and what training they need to fill those jobs. In just two outings, the Bus to Biz program has made major headway in connecting the dots for our local educators so that we can be more targeted in our workforce approach."
The Bus to Biz program is exactly what the name implies — SPEDA and the Chamber plan a field trip for teachers to visit local industries by way of the district's yellow school buses. Somerset Independent was the first district to participate, with more than 70 educators from Meece Middle School and Somerset High School participating in August of last year. SPEDA funds bus transportation and provided lunch during the day's activities.
This community and this state face unique workforce challenges, Somerset-Pulaski Chamber of Commerce Executive Director Bobby Clue said, and it will take innovative ideas to solve them. The Bus to Biz program has quickly been transformational in this regard, Clue said.
"I have loved watching light bulbs turn on for so many of our local educators and our industry leaders as they start talking to one another through this program," Clue said. "And I have no doubt that through these conversations, more transformational ideas will emerge that will help connect students to careers right here in Somerset and Pulaski County. The more we all communicate about the needs of students and the needs of the local workforce, the stronger our economy will become."
Southwestern High School Principal Mark Flynn said the experience was excellent and informative for his staff.
"Being able to see firsthand some of the wonderful job opportunities available right here in our community was very encouraging," Flynn said. "Going on the tour and getting the provided information will greatly enhance classroom discussions about future employment opportunities available locally for our students."
The Bus to Biz program takes place on professional development (PD) days, giving teachers a new opportunity to gain those hours right here in the community. Somerset High and Meece Middle schools will participate in the next event Aug. 8. They will tour AppHarvest, Team Modern and SCC's Lineman Training Center and Valley Oak campus.